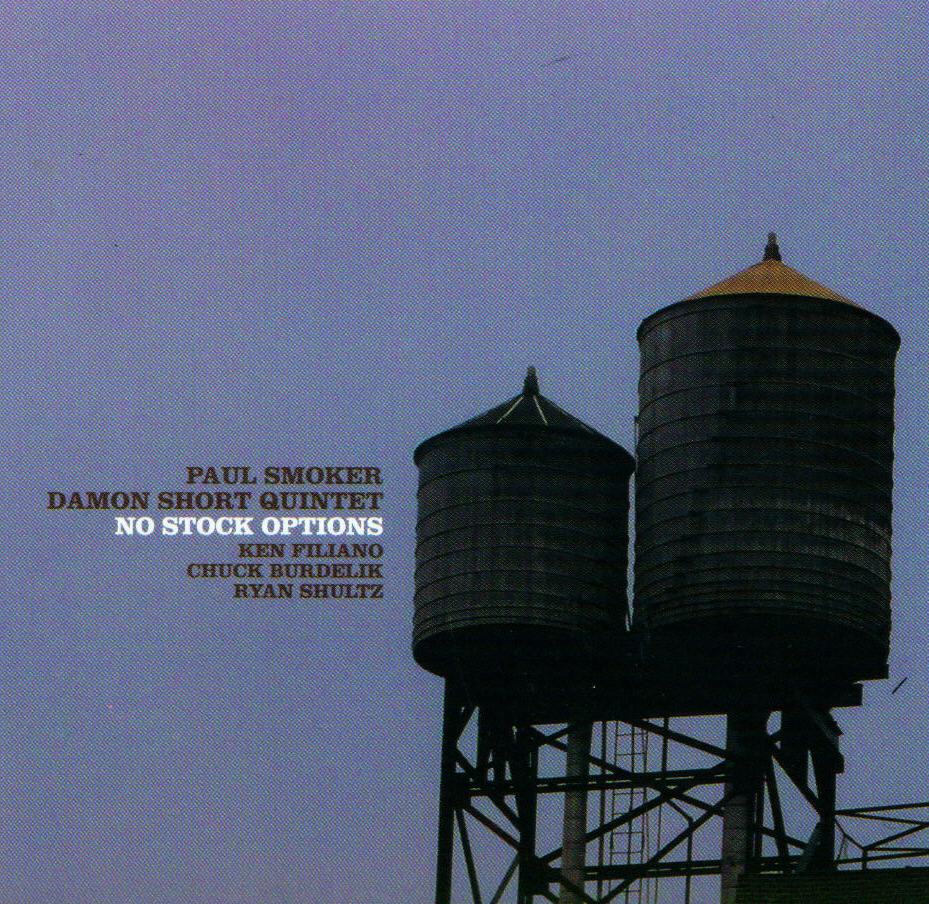 Paul SMOKER / Damon SHORT - NO STOCK OPTIONS

(Smoker, Shultz, Filiano, Burdelik, Short)
---
Recorded in Rochester NY, July 2004, with Paul Smoker, trumpet; Chuck Burdelik, alto sax (1,2), tenor sax (4-6), alto clarinet (3,4), alto flute (4); Ryan Shultz, bass trumpet; Ken Filiano, bass; Damon Short, drums.
Engineered by David Baker

Top 10 Readers Poll and Editor's Choice - Cadence 2008
reviews:
"… six lengthy tunes that start at the intersection of free bop and free improv and work their way outwards. At times the group weaves thematic materials together in concentrated fashion, while elsewhere they exult in a form-free pinwheeling in open space… From the opening duo featuring the co-leaders, this disc smokes in high gear, the music consistently marked by dense detail, polyphony, near-groove momentum, and a wide-ranging imagination… The pieces breathe well and, despite their length, rarely drag. It's not just that there are compelling solo spots around every turn (just check out Filiano rocking it on the title track), but also that there's a constant filigree being worked at around the edges of the music, meaningful commentaries and punctuations that frame things suggestively without hamstringing the players." - Jason Bivins, Signal to Noise, Summer 2008, p. 90
-----------
"Each of these players is an inventive soloist in his own right, the formula clicks. Smoker dives in with his energized torrential flurries and keen sense of pace and form. Shultz is a particularly effective asset on his rarely-heard bass trumpet. With the tonal range of a trombone he is able to fly across the themes with a sharp-edged phrasing accentuated by burrs and smears. Burdelik dips in to Bop phrasing and pushes it toward freedom with lines that careen along drawing economically on the overdriven vocabulary of Free playing. He can also be quite lyrical, like his bass clarinet playing on Smoker's "Goodbye, David", a tribute to recording engineer David Baker. Filiano is one of the most underrated bass players around these days. His burly tone and propulsive drive locks in with Short's caterwauling drums to provide an infectious Free pulse. He is an inspired soloist as well. Short's limber freedom and open sense of swing is one of the defining elements of this session. The pieces range from hyper-speed intensity to the open freedom of the 20-minute "Obsidian", full of unhurried collective development and featuring a particularly plangent solo by Filiano. This document is further proof of the singular visions of the two leaders and well worth searching out." - Michael Rosenstein, Cadence, Oct-Dec 2008, p. 230
-----------
"To the Quick" begins with some an intense, full blast duo of trumpet and drums by the two co-leaders. When the rest of the horns and bass come in, the excitement goes up another notch. Whoa! Super tight, super quick and totally burnin'! Damon's incredibly powerful and inventive drums push the quintet higher and higher, so that when Chuck comes in tenor sax to solo, he has to reach for the stars. Ryan Shultz, who plays the rarely heard bass trumpet, also takes an incredible solo on his trombone-like sounding horn. The title piece features more well-written parts for the horns with inspired solos from each of them. I dig the way the other horns play underneath soloist at times adding layers of different parts at certain times. Sometimes solos will overlap while the rhythm team plays with each soloist simultaneously… This is a consistently inspired and especially intense quintet with strong playing and writing as well." - Downtown Music Gallery newsletter, April 2008
---
Ordering info for No Stock Options...
...back to the top