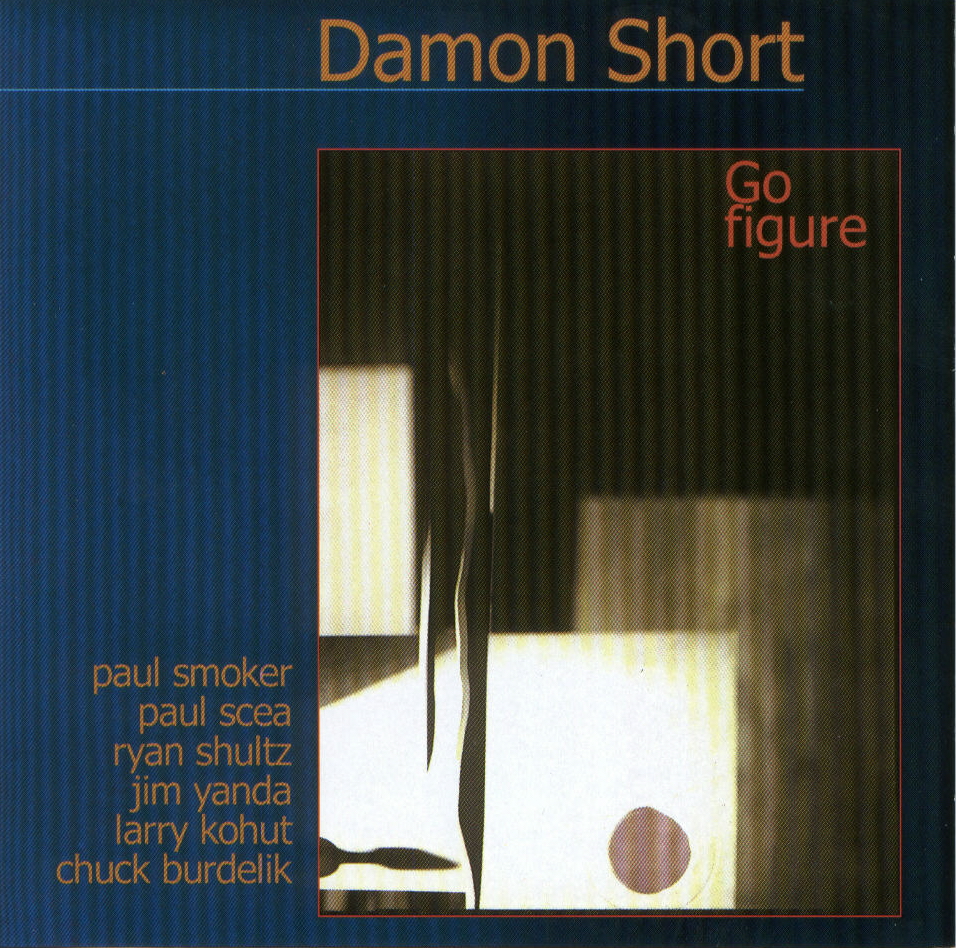 Damon Short - GO FIGURE
The long-awaited sequel to All of the Above - a reunion of the 'national' sextet featuring Paul Smoker on trumpet, Paul Scea, saxophones, bass clarinet and flute, Ryan Shultz, bass trumpet, guitarist Jim Yanda and bassist Larry Kohut, with the welcome addition of Short's long-time fellow traveler Chuck Burdelik on saxophones - again masterfully captured by engineer David Baker.
Released September 2002 on the 9Winds label (NineWinds NWCD0231).

" (****) With influences that encompass gamelan, Harry Partch and swing, Short's compositions are understandably varied. Throughout Go Figure, the players in his septet constantly defy the supposed limitations of various genres - swinging when you expect them to lurch, and taking sudden turns outside the prescribed forms... their empathy for his music is evident at every turn in this engaging program." -- James Hale, down beat, September 2003
" (8 stars) With his ride cymbal in constant motion and a percolating snare prodding things along, Short demonstrates not only a deep sense of swing, but the ability to move in and out of abstraction seamlessly. The title track is a prime example of this, from the grooving opening of the head to Short's fractured and compelling support. More abstract and thoughtful is "Gardens of Perception", where he moves from vibraphone to quietly rumbling toms, from driving kit to silence." -- Martin Patmos, Modern Drummer, September 2003
" At times you can hear the history of the Roach-Brown 5tets behind a group like this, but it is not Hard bop or even Free Bop they play... the voicing of the four horn players is rich and creative, and ever changing. This one is a gem, and a record to seek out, for the years of experience of the players will reward every listen." -- Phillip McNally, Cadence, April 2003
" ...smart, well-crafted and thoroughly unclassifiable music. What makes this 1997 session so enjoyable (aside from the interesting tunes and the non-standard instrumentation) is the whip-smart way this ensemble brings everything off. All the players on the date are old musical associates of Short's and the familiarity and trust they have for one another makes all the difference. Listen to the way the ensemble moves from a richly voiced, blues-inflected night music at the beginning of "Anesthesiology" to a more extrovert, Mingusy passage from which Scea's muscular tenor and Jim Yanda's guitar emerge for trenchant solos. Paul Smoker weaves his buzzing, spattering trumpet above the assertive trombone of Ryan Shultz. Except that Shultz plays the almost-forgotten bass trumpet, and plays the hell out of it. Former NRG Ensemble saxophonist Chuck Burdelik adds color on four of the seven cuts and Short brings a light dancing touch on vibes (playing with the articulation and sound of a Rhodes piano) to the 25-minute-long "Gardens of Perception." --John Chacona, Signal to Noise, Spring 2003
"...not only an agile trapsman and technically voracious vibraharpist, he's also one who strives to have his composing and band-leading talents taken seriously... Short is mighty proud of the talent assembled for these projects, and rightly so. This is an actual working group, not one assembled for a one-off, and it shows in their chemistry and deft handling of the leader's often-tricky compositions...The disc is a combination of tunes from the band's book of the last several years, joined with the centerpiece of the disc, the 25 minute "Gardens of Perception," written for this recording. "Gardens" develops slowly, but never ponderously, and follows several courses. Beginning with a few minutes of Short's quiet solo vibraharp, the horns introduce a two note motif that brings to mind some of Cecil Taylor's writing, capping the first section with some fine Smoker, first accompanied by the vibes, and finally solo. The second section brings on a bumping figure for Burdelik's baritone and Scea's bass clarinet that leads to a fine improvised horn collective. Short, having switched to the drums, fires things up considerably under an uncredited alto solo by Burdelik that provides some of the most exciting moments of the date..."Go Figure" does so many things so well and excels on so many different levels it's almost hard to believe that it had to wait five years for release - perhaps the title is a reaction to just that. Regardless of when it was recorded it stands as one of the strongest group statements of the year, from a swinging, intelligent, witty ensemble that should continue to work and record for another decade to come." --Craig S. Nixon, Jump Arts Journal, Summer 2003
" It took almost 6 years to Damon Short to get this recording out. In itself, this is a tribute to the drummer's persistence and unabated will to present his music even if commercial success and proper recognition have been eluding him—even in Chicago. Despite Short's uncompromising resolve, Go Figure remains relatively accessible. Of course, it will take time to truly appreciate the wealth of the compositions, which strike a balance between tuneful ensemble playing and unbridled soloing. .. Short has a wide palette of sounds at his disposal, and he knows how to fully take advantage of it... Short's arranging skills are displayed through unison passages and voicing which give the music an alluring majesty ("Gardens of Perception.")...The wonderful and exciting dialogues that the musicians offer throughout produce some of the highlights of Go Figure : Scea's flute and Smoker's trumpet on "Old School," and again, Smoker and Shultz's bass trumpet on the bluesy "Anesthesiology." "Flag Day," in which the brass instruments are pitted against low-register reed voices (bass clarinet and baritone sax), results in a joyous chaos and a playful game of call and response. And, on the title-track, Jim Yanda and Ryan Shultz are taking turns leading and supporting each other with a rare complicity. Without making any concession,Go Figure is another fine addition to the drummer's catalogue. And, if it is not Damon Short's finest outing to date, it is surely my favorite." -- Alain Drouot,Chicago Jazz Institute Jazzgram, April 2003
"Short's affection for the avant-garde is well represented here, but there's a compositional discipline apparent that offers accessibility to the listener even when the music goes outside. The composer has had a musical relationship with some of these players for as long as twenty years, so he's able to craft material that draws on their particular abilities, and he provides plenty of room for them to display those abilities... creating long form avant-garde compositions laden with improvisational passages for seven musicians is a daunting task, but one that Short is fully up to. It's hard to pick out individual contributions since the ensemble plays so cohesively and, as Short says in the accompanying notes, remembers that "the music comes first." In fact, the most noteworthy star turn is made by Short himself, when he lays aside the drumsticks at the beginning of "Gardens Of Perception" in favor of vibraphone mallets and delivers an impressive performance that reflects both his gamelan training and his unerring improvisational instincts. This is an impressive and enjoyable effort from an outstanding group of musicians presenting the product of an impressively creative mind." -- Shaun Dale, jazzreview.com, January 2003
" His pieces are best described as West Coast free jazz; they have that clarity in the themes and motifs and that free-form coolness in the soloing and arrangements...The disc contains three highlights, the first of which comes right after this introduction. The 14-minute "Go Figure" is a mean swinger of a tune. Yanda handles the theme; the rest of the band waltzes in and out of it with rich brass arrangements and quirky solo features. "Anesthesiology" (nine minutes) drags itself around in the most alluring fashion. Slightly sloppy and indecisive, as if it were waking up from chloroform-induced sleep, it turns out to be the entertaining track of the bunch, despite following the slowest tempo. The 25-minute "Gardens of Perception" takes listeners back to dead-serious avant-garde jazz, but of a compelling kind... It goes through an array of shifting settings, its complex structure never getting in the way of genuine enjoyment. Recommended." -- François Couture, allmusicguide.com, January 2003
(all compositions by Damon Short)
---
Recorded in Evanston (Chicago), November 1997, with Paul Smoker, trumpet; Paul Scea, tenor (1,2,4,6,7), soprano (3,6), flute (3,6), bass clarinet, (5,6); Ryan Shultz, bass trumpet ; Chuck Burdelik, tenor (1,7), bari (5,6), alto (6)); Jim Yanda, guitar; Larry Kohut, bass; Damon Short, drums, vibes (6). Engineered by David Baker

---
Ordering info for Go Figure...
...back to the top