Damon Short Sextet
The music of the DAMON SHORT SEXTET combines the best elements of the jazz tradition and the exploratory spirit of the avant-garde. Short's compositions feature intricate ensemble writing which showcases the distinctive talents of each improviser:
"...his compositions...display the rhythmic snap you'd expect from a drummer's tunes; they also show a bristly melodic invention and a variety of moods and colors. His best melodies combine warmth and depth for an almost luminous quality; when he skillfully arrays them among a front line of winds and guitar, they almost phosphoresce... long on variety, virtuosity, and a well- grounded adventurism; miss him at your own risk." -- Neil Tesser, Chicago Reader 5/6/94
"... he engages in truly exciting interplay with his soloists. ...his scores are darkly hued, sometimes they're merrily animated, they frequently stimulate improvisers to distinctive solos and occasionally to structured collective improvisations...His group explores rewarding territory, from hard bop to outside jazz, with fine confidence." -- John Litweiler, Reader 6/12/92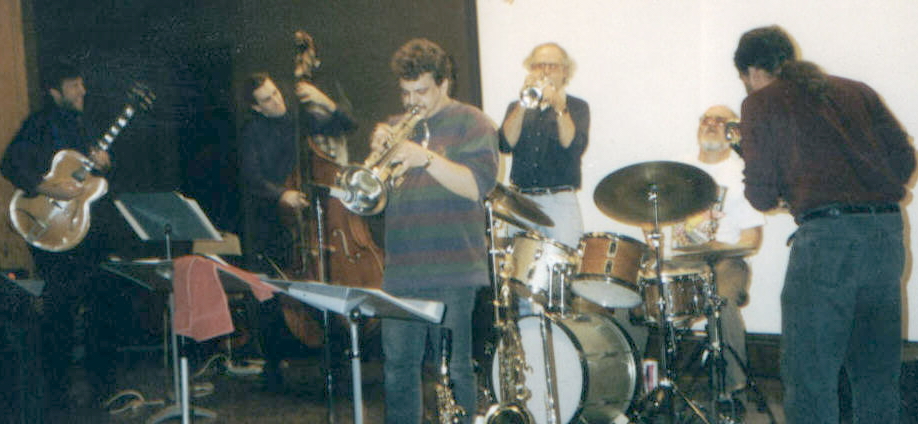 -------------------------------
Although Chicago-based, the Sextet pools the talents of artists from across the country, with internationally-noted trumpeter PAUL SMOKER, multi-reed artist PAUL SCEA (from Morgantown WV) and Chicagoan RYAN SHULTZ, bass trumpet, comprising a formidable front line. Brooklyn's JIM YANDA on guitar and fellow Chicagoan LARRY KOHUT (bass) join the leader on drums. These versatile musicians meet the challenge of Short's compositions, which range from evocations of New Orleans street bands to intricate conversations akin to contemporary chamber music. A band of committed individuals, conversant in all facets of modern creative music.
-------------------------------
"...the most rewarding moments of the evening came when ensemble members would feed off of one another's intensity
and solo simultaneously." -- Dennis Polkow, Chicago Tribune 12/11/94
-------------------------------
Short's first album, Penguin Shuffle, was released in late 1987 to widespread critical acclaim. His groups have performed at Chicago concert venues such as Southend Musicworks, Hot House, Link's Hall, Empty Bottle, Unity Temple, and the Chicago Jazz Festival and Club Tours.
-------------------------------
"...he eloquently and elegantly combines shifting tempos, changing densities... all rooted in a natural sense of swing and given an accessible, appealing veneer." --Peter Margasak, Reader 12/9/94
-------------------------------
Short has received grants from the Arts Midwest Touring Program and Meet the Composer; in 1993 Short was selected for the "Live Showcase" at the 1993 presenters' conference of the National Jazz Service Organization, and was a finalist in the 1993 Hennessy "Best of Chicago Jazz Search".
-------------------------------
"...another free-thinking Chicagoan...variety is Short's strong suit...he offers his sextet wide-open spaces, angular Braxtonian melodies, a mock spiritual, tuneful bass vamps and undulating written lines for harmonized horns."
-- Kevin Whitehead, Pulse!, April 1995
-------------------------------
In December 1994 Chicago's Southport label released Short's second album, All of the Above. This compilation of original work features the members of the touring sextet - five extended realizations of the leader's compositional and group vision, with influences drawn from Mingus, Ellington, Dolphy, Braxton, Berg and Messiaen. In 1995 the Sextet appeared at the "What is Jazz" festival at New York's Knitting Factory.
-------------------------------
"...cerebral free-form jazz...Short is one of the finest composers in Chicago...impressive in their spatiality and contrasts...Short, a drummer and uncompromising composer, draws a remarkable range of shapes and thoughtful shadings from what might be called internal dialogues. ("All of the Above") ...sounds like something from five years from now."
-- Lloyd Sachs, Chicago Sun-Times 9/2/94, 1/29/95
"...a wondrous recording...cheerful anarchy, structured improvisation,
open-ended investigations of well-conceived, well-written themes." --Tom Surowicz, Midwest Jazz Spring 95
-------------------------------
DAMON SHORT SEXTET 6211 N. Campbell, Chicago IL 60659
(773) 508-0286 - fax 508-5871
email: damonshort@comcast.net
-------------------------------
...return to home page