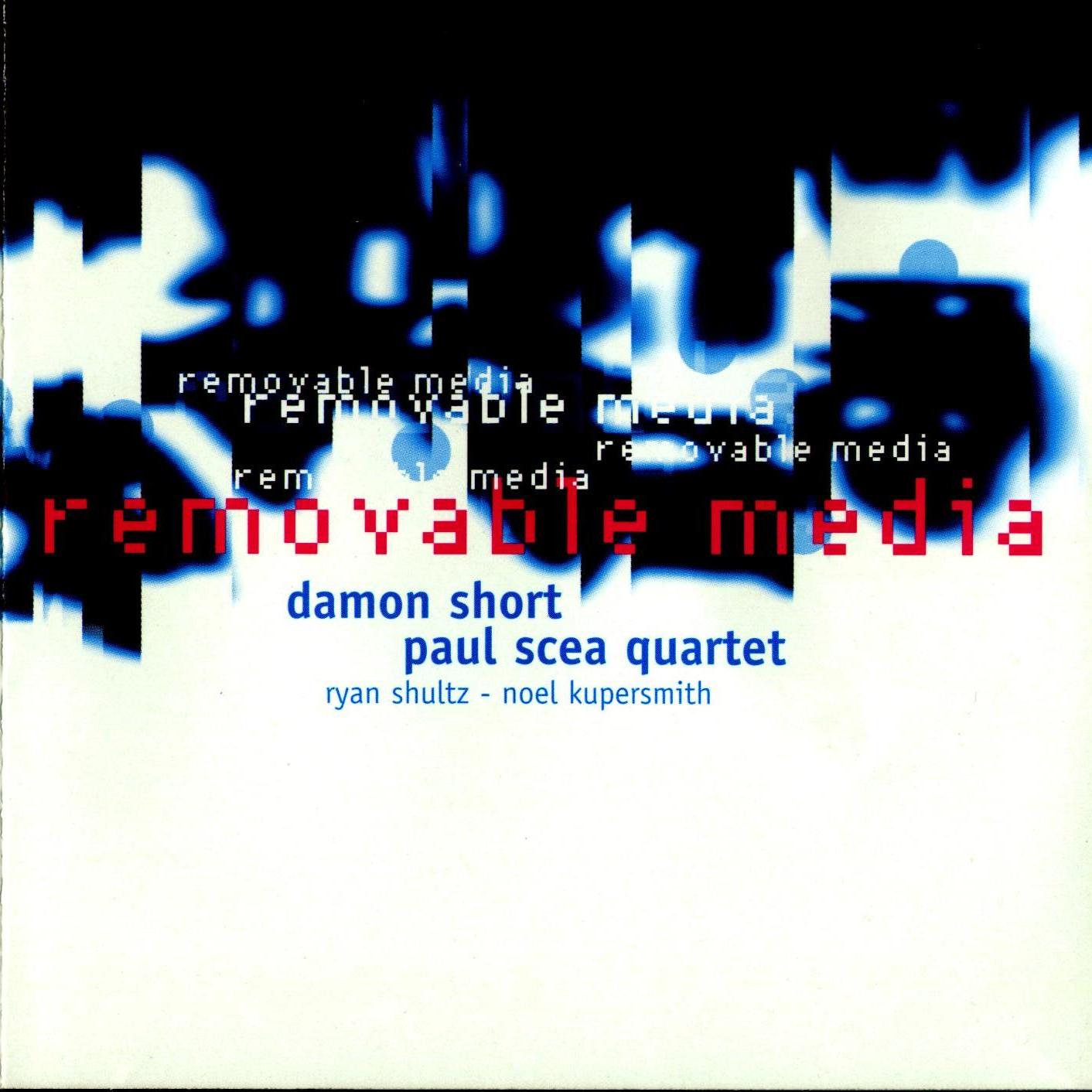 Damon Short - Paul Scea Quartet - REMOVABLE MEDIA
---
The Short-Scea Quartet's Removable Media is the latest documentation of a musical partnership dating from 1989. Percussionist Damon Short and multi-reed artist Paul Scea were brought together for a concert by trumpeter Paul Smoker in the fall of that year; shortly thereafter Scea was a featured soloist on Short's All of the Above (Southport).
| | |
| --- | --- |
| Removable Media features 8 original works, 4 each by the co-leaders, who are joined by Ryan Shultz, bass trumpet, and Noel Kupersmith on bass. The leaders' compositional styles are contrasting yet complementary,giving the set its unique character. | |
"... an unusual quartet...an album of spidery spatiality and assertive harmonies, by turns elusive and full of down-home warmth." -- Lloyd Sachs, Chicago Sun-Times, 11/29/98
"... with cool-burn intensity and impressive restraint (the Quartet) sketch(es) loose melodic contours around wide-open spaces in a way that recalls Archie Shepp's legendary New York Contemporary Five... a vital piece of the Chicago jazz puzzle." -- Peter Margasak, Chicago Reader, 12/11/98
" Exploring the boundaries of freedom with unusual restraint... Short is that rare bird, a thoughtful, tactful drummer more concerned with a subtle gesture than a persistent groove (his solo introducing Figure 37 is positively wistful). By switching from flute to bass clarinet to soprano and tenor sax, Scea paints a different color on nearly every track. With Ryan Shultz--possibly jazz's first bass trumpeter of note since Cy Touff--and bassist Noel Kupersmith, they typically establish a fluid compositional environment, and let a healthy spontaneous interaction of ideas do the rest." -- Art Lange, Pulse!, March 1999
"...[The album] kicks off with Toll Free, which sports what could be an Ornette head on a 45, played at 33. Kupersmith's bass solo to begin Song Not Heard veers toward Charlie Haden's unforgettable opening to Lonely Woman. The head of Figure 37 teases briefly with hints of Dolphy's Something Sweet, Something Tender. Back from Lunch is a virtually explicit homage to the title track of Dolphy's masterpiece Out to Lunch, which it greatly resembles. [strictly speaking, it's modeled more after Hat and Beard, and also Oliver Nelson's Teenie's Blues -- ds] Dolphy's track and this one share a bounding bassline and a monster swing. Scea, on bass clarinet, builds slowly to the heights of Dolphy's extravagant animation without aping the master's gestures, while Shultz's bass trumpet swings with graceful exuberance.

At times Short and Kupersmith are so active on this disc that they threaten to turn the traditional quartet arrangement on its head - which may be what they had in mind. On "Toll Free", Removable Media and Raze Al, most notably, they seem at times to take the lead, while the horns play long tones in virtually a rhythm mode. But such revolutionary gestures are played out subtly, as much of this music is abstract and ruminative, with fine temperature rises at crucial moments (as in Scea's flute solo on "Removable Media", and during his brief but furious turn on flute, sandwiched between bass clarinet dialogues on "Song Not Heard"). Another example of the fine architectonic sense of the whole quartet is the carefully structured progression from short to long lines on "Figure 37".

This quartet is not stuck on thirty-year-old models. Scea's tenor on Bullets sounds more like Evan Parker than someone playing on Free Jazz. It is a fitting ending to a masterful disc that creates something authentically new with full and respectful awareness of the old. Recommended." -- Robert Spencer, Cadence, March 1999
" Drummer Damon Short and reedman-flautist Paul Scea have an evocative quartet date in Removable Media (Southport 0060). This is a cooking band. Ryan Shultz and Noel Kupersmith, on bass trumpet and bass respectively, do not take backseats. That egalitarian spirit is a strength here, as the pieces are shaped and stamped by everyone involved. Back From Lunch tips hat (if not beard) to Dolphy, Toll Free and Raze Al extend creatively Ornette-like melodic lines, and the title piece and its thematic segue into Figure 37 feed off free techniques. The music digs and has heart. A thoughtful, driving set which affirms jazz while stepping freely forward. Paul Smoker does the liner notes. Worth looking for." -- Doug Lang, Coda, July/August 1999 (Issue 286)
---
Toll Free (Short); Removable Media (Scea); Figure 37 (Scea);
Back from Lunch (Short); Raze Al (Scea);
Song Not Heard (Short); Swallowing the Sun (Scea); Bullets (Short)
---
Recorded in Evanston (Chicago), March 6, 1997, with Paul Scea, tenor & soprano sax, bass clarinet and flute; Ryan Shultz, bass trumpet; Noel Kupersmith, bass; Damon Short, percussion. Engineered by David Baker

---
Ordering info for Removable Media...
...back to the top